2020 Local Image Awards
The Florida Public Relations Association's (FPRA) Image Awards competition is the precursor to FPRA's Golden Image Awards. Conducted annually, the Image Awards competition provides PR practitioners an excellent platform to be recognized in their home markets for their outstanding public relations tools and programs.
The Image Awards also works to give entrants insights for entering their work, if they choose, into FPRA's statewide competition: the Golden Image Awards. The Golden Image Awards have become a standard of public relations excellence in Florida. The Image Awards competition mirrors the Golden Image Awards, but is held on a local level, as opposed to statewide. Both these award competitions include four divisions: Public Relations Programs, Printed Tools of Public Relations, Digital Tools of Public Relations and Student Projects in Public Relations. Within these divisions are multiple categories.
To qualify for judging, an entry must incorporate sound public relations research and planning. Entries also must meet the highest standard of production, execution and evaluation of results and budget.
Entries for the 2020 FPRA Treasure Coast Chapter Image Awards are now closed. Good luck to all those that entered!
2020 Image Call For Entries
2020 Local Image Awards Breakfast Ceremony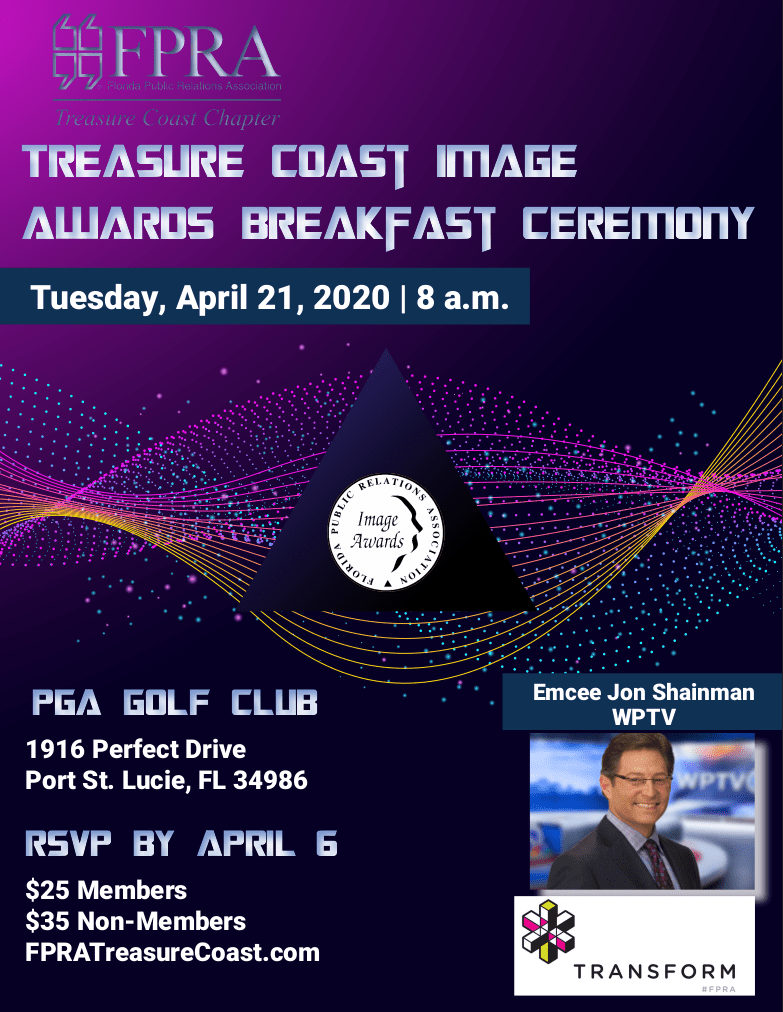 The Treasure Coast Annual Image Awards and Communicator of the Year Ceremony celebrate the talent and accomplishments of chapter members and local public relations and media professionals. The event is a highlight of the year for many businesses and organizations that compete for the top honor of the Grand-All Image Award. Bring your Supervisors and Co-workers to celebrate your achievements!
Submit a nomination for Communicator of the Year
Our awards ceremony will take place at PGA Golf Club on Tuesday, April 21st. Breakfast and registration begins at 8am and the awards ceremony begins at 8:30am. Use the link below to purchase your ticket to attend the ceremony. We encourage you to invite co-workers, supervisors, bosses, and other business professionals to this event. Breakfast is included with ticket price.
Purchase tickets to Image Awards Ceremony
2020 Golden Image Awards
The Call for Entries for the Golden Image competition will be available March 14, 2020. The early bird entry deadline is May 8, 2020. The extended entry deadline is May 18, 2020.
View Golden Awards Info