2021 Local Image Awards
The Florida Public Relations Association's (FPRA) Image Awards competition is the precursor to FPRA's Golden Image Awards. Conducted annually, the Image Awards competition provides PR practitioners an excellent platform to be recognized in their home markets for their outstanding public relations tools and programs.
The Image Awards also works to give entrants insights for entering their work, if they choose, into FPRA's statewide competition: the Golden Image Awards. The Golden Image Awards have become a standard of public relations excellence in Florida. The Image Awards competition mirrors the Golden Image Awards, but is held on a local level, as opposed to statewide. Both these award competitions include four divisions: Public Relations Programs, Printed Tools of Public Relations, Digital Tools of Public Relations and Student Projects in Public Relations. Within these divisions are multiple categories.
To qualify for judging, an entry must incorporate sound public relations research and planning. Entries also must meet the highest standard of production, execution and evaluation of results and budget.
To enter the 2021 FPRA Treasure Coast Chapter Image Awards, review the rules and guidelines in the Call For Entries below. Entries must be submitted on www.fpraimage.org by Friday, February 19, 5 p.m.
Image Awards Examples http://fpraimage.org/wp-content/uploads/2021/02/2021-Image-Awards-Examples-1.pdf
Image Awards Fill in the Blanks http://fpraimage.org/wp-content/uploads/2021/02/Image-Awards-Fill-in-the-Blanks.pdf
Image Awards Research in Real Life http://fpraimage.org/wp-content/uploads/2021/02/Research-in-Real-Life.pdf
Judging Process Rubric https://fpratreasurecoast.com/wp-content/uploads/2021/02/03-Judging-Process-Rubric-2021.pdf
2021 Image Call For Entries
Treasure Coast Chapter Communicator of the Year Awards
Communicator of the Year awards are given to communications professionals, whether members of FPRA or not, who demonstrate outstanding skills in one of the following categories:
• Communicator of the Year for utilizing technology
• Communicator of the Year for being a mentor
• Communicator of the Year for promoting diversity and inclusion
• Communicator of the Year for providing professional development to others
• Communicator of the Year for service to the community
There are no specific limits to how much you can or cannot say about your nominated candidate, and we would love to hear about how you think your candidate fits into one of the categories. For example, service to the community could be non-profit work, volunteer work, government work – make your case for what it means to you!
Please attach a summary of the outstanding performance and accomplishments that makes your candidate deserving of this award and email it back to me by March 12.  Please include the following information about how the candidate's communications skills were utilized to show:
Impact on the community
Outcome or results of work
Years in current position
Years of Public Relations/Communications/Marketing experience
Any news articles, press releases, ads, etc. (if available)
Past winners are eligible for nomination.  Please select the appropriate category and submit the form I've attached and supporting information to me at sprohaska@cityofpsl.com.
Submit a nomination for Communicator of the Year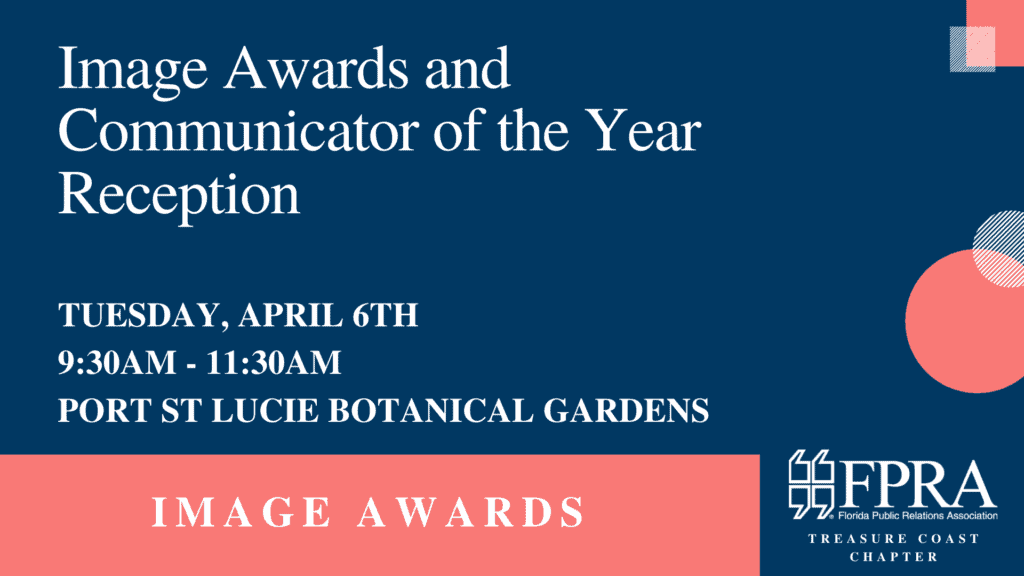 Purchase Ticket
2021 Golden Image Awards
The Call for Entries for the Golden Image competition will be available soon!
View Golden Awards Info