The FPRA Treasure Coast Chapter's Media Conference is held annually. The event brings together PR and media professionals from across the Treasure Coast and provides the latest tips and techniques for being an effective communicator.
2018 FPRA Treasure Coast Media Conference:
Friday, April 20, 2018
8:30 am – 1:00 pm
Keiser University
9400 SW Discovery Way
Port St. Lucie, FL 34987
$75 for members/$85 for non-members includes Image Awards luncheon and Communicator of the Year Ceremony
Speakers & Topics
Fake News
Adam Neal, Editor and News Director of TCPalm and Treasure Coast Newspapers
A Peek Behind the Curtain of the Firehouse Subs Private, National VIP Media Experience
Liz Anderson, Firehouse Subs
Finding Balance in your Content: The Fusion of In-House and Professional Video Production
Bryan Smith, Director of Content Production and Managing Partner of 8th Avenue Studios
Engaging and Informing the Public
Lisa Malone, NASA Public Affairs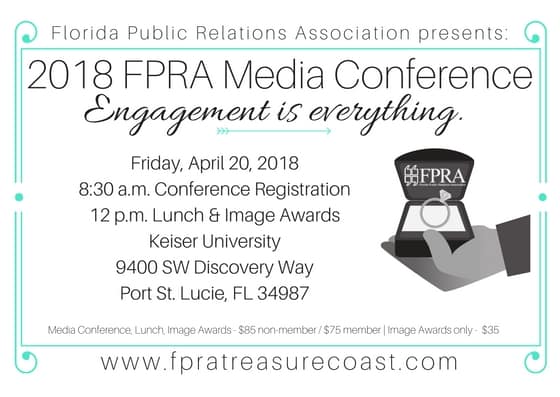 Have questions about Media Conference? Contact FPRA Treasure Coast Media Conference Director
Jenny Tomes.