It's finally HERE!   FPRA Image Awards Presentation, Communicator of the Year Ceremony, and Communications Conference will Level Up Your PR Game as the BEST experience of the year!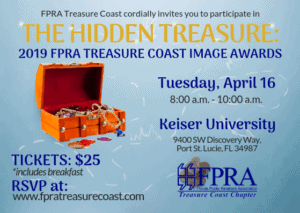 The day begins with our Image Awards and Communicator of the Year Breakfast Ceremony:
The Chapter's Annual Image Awards and Communicator of the Year Ceremony recognize the talent and accomplishments of our chapter members and local public relations and media professionals. The event is a highlight of the year for many businesses and organizations that compete for the top honor of the Grand-All Image Award. Alyson Lundell, APR, CPRC, Senior Director, Public Relations Universal Orlando Resort and FPRA state President-Elect will be our Emcee.
Bring your Boss or Supervisor to share in the camaraderie and celebration of your fellow PR peers.
After a delicious plated breakfast, you'll Level Up Your PR Game with exciting sessions from state-wide communications professionals, features two general sessions and four break-out options.
General Session Topics  
Unleashing PR Speed with the Race through New York Starring Jimmy Fallon & Fast & Furious Supercharged
            Alyson Lundell, APR, CPRC, Senior Director of Public Relations for Universal Orlando           Resort Universal Orlando Resort
What Mario Kart Taught Us About Digital Marketing
            Maria Mora, Content Director, Big Sea Digital Marketing & Web Design
Break-Out Sessions (more to come!!)
Social Media Tips, Tricks and Hacks
      Josh Hirsch, Director of Mission and Communication Susan G. Komen South Florida,Good Samaritan Medical Center Social Media for Fundraising
From Atari to Xbox One: How to Authentically Engage across Generations
      Roger Pynn, APR, CPRC, Senior Counsel, Curley & Pynn
            Ali Soule, Director of Public Affairs and Media Relations, Brightline
And be sure to attend our next meeting on March 19th where you'll learn how to implement a podcast to enhance your branding message. Sounds like a great idea for an Image AWARD!
See you Soon