Tuesday, November 21th
Social Media VIRAL: Behind the Scenes Understanding the How and the Why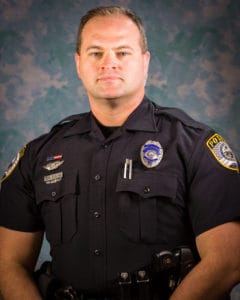 PRESENTATION DESCRIPTION:
Officer Ben Tobias manages the well known Gainesville Police Department Facebook and Twitter channels.  Those channels have become internationally known after multiple viral posts.  Officer Tobias has been studying the variables surrounding each of those posts to analyze how and why content goes viral. Ben will share lessons learned along the way and will impart some of the secrets he has discovered after being behind viral content.
BIO
Officer Ben Tobias joined the Gainesville Police Department in 2005. During his career, he has served in Patrol and also spent three years riding horses with the Mounted Patrol Unit.  Ben was approached and asked to be the Public Information Officer for GPD in the spring of 2012 which he accepted.
About a month after starting his new position, he handled all media functions for the murder case of UF Student Christian Aguilar, a case that garnered international attention.  Approximately 6 weeks after becoming a PIO, Ben gave a press briefing that aired live nationwide.
Since that time he has managed multiple incidents that have drawn international media attention, including celebrity and athlete arrests.  Ben manages a very successful Facebook and Twitter for the Gainesville Police Department and has found the magic of going viral multiple times.
Ben is also the President of the Florida Law Enforcement Public Information Officers Association.
When he's not wearing his PIO hat, he's wearing a helicopter flight helmet as one of the backup Tactical Flight Officers for the Gainesville Police / Alachua Sheriff's Joint Aviation Unit.
Location:
Keiser University
9400 SW Discovery Way,
Port Saint Lucie, Florida 34987
8:30 AM to 9:30 AM